UMaine teams with St. Joseph's, UMM, UMF and Dartmouth
In collaboration with SJH, Vetelino and a team of researchers from UMaine, University of Maine at Machias (UMM), University of Maine at Farmington (UMF), and Dartmouth College are designing sensor systems that can improve healthcare. The systems can be applied in the monitoring and detection of medical conditions and diseases.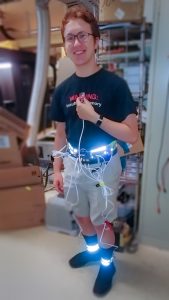 "We wanted to know how the sensor technology that we are developing at UMaine could contribute to healthcare in Maine and beyond from the viewpoint of physicians and healthcare providers," says Vetelino.
SJH physicians and caregivers met with UMaine researchers and students during a 10-week focus session to determine which sensor system would have the most significant and immediate impact on healthcare in Maine. The resulting decision was to focus on the aging population and to develop a sensor system designed to collect data assessing gait and fall-risk.