UMaine wireless leak detection system scheduled to launch to International Space Station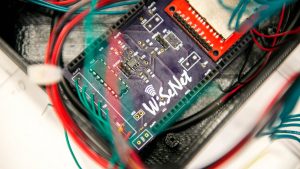 This December, a wireless leak detection system created by University of Maine researchers is scheduled to head to the International Space Station (ISS).  The prototype, which was tested by NASA and in the inflatable lunar habitat and Wireless Sensing Laboratory (WiSe-Net Lab) on campus, could lead to increased safety on ISS and in other space activities.
On Friday, Dec. 9, the payload is expected to be launched by the Japanese Space Agency (JAXA) in Tanegashima, Japan onboard an HTV6 rocket that resupplies ISS. The launch is scheduled for 10:26 p.m. Japan Standard Time (JST), according to the JAXA website.  (10:26 p.m. JST is 8:26 a.m EST)
The project was one of five in the nation to receive funding from NASA–EPSCoR for research and technology development onboard ISS. Ali Abedi, a UMaine professor of electrical and computer engineering, was awarded the three-year, $100,000 NASA grant through the Maine Space Grant Consortium in 2014. Collaborators on the project include Vincent Caccese, a UMaine mechanical engineering professor, and George Nelson, director of the ISS Technology Demonstration Office at the NASA Johnson Space Center.
To celebrate the event, members of the UMaine community are welcome to attend a free launch party at 5:30 p.m. Dec. 9 at the Emera Astronomy Center on campus.