Senior Capstone Design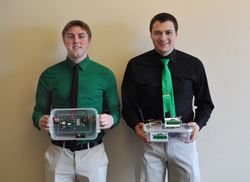 Congratulations to Timothy Albert (Electrical Engineering, 2014) and Ian Maines (Computer Engineering, 2014) for their award-winning Capstone Design project.  Their "envwi sense" project involved an internet connected array of sensors to wirelessly monitor temperature and humidity.  Environmental data over the array of sensor locations is logged and served for analysis or display through a web interface.
More information is available on the envwi sense project web site.