Joshua Patnaude: Class of 2017 UMaine Salutatorian
Joshua Patnaude of Sanford was named the Salutatorian for the UMaine graduating class of 2017.  Joshua received two Bachelor of Science degrees satisfying the requirements for both the Electrical Engineering and the Computer Engineering degrees.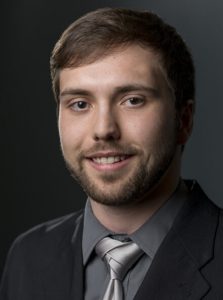 Valedictorian and salutatorian are the highest honors that recognize students for outstanding academic achievements, and for contributions to UMaine and beyond. Candidates nominated from each UMaine college are evaluated on the strength, breadth and rigor of their academic achievements, evidence of intellectual promise, character, service and other accomplishments.
Patnaude was a first-generation college student and a 2013 Mitchell Scholar with numerous honors for academic achievement, including a Maine Space Grant Award. He held internships every summer of his academic career, working at Great Works Foundation Inc. in Sanford; Pratt & Whitney in North Berwick; Portsmouth Naval Shipyard in Kittery; and Modern Grid Partners in Portland.
During the academic year, Patnaude was an undergraduate teaching assistant in UMaine's Department of Electrical and Computer Engineering. He also served as a peer tutor.
For two years, Patnaude served as president of the UMaine Black Bear Robotics Club and, since 2014, has helped promote interest in engineering and science by volunteering more than 500 hours at high school VEX robotics competitions. Patnaude is an Eagle Scout and holds a black belt in karate.